January 26, 1997 No 4 (431)
- Society
---
JEWISH PROPERTY
The unresolved Jewish property question is spoiling the climate surrounding Central European states in the international arena. American Jewish organizations are pressuring the U.S. administration to bar former communist states from NATO until after they have solved the problem of returning Jewish property to its rightful owners.
50 Years And Counting
Property that belonged to Polish Jews before World War II may someday be returned to its owners (or their heirs)-but politicians admit that the day may still be a long way off.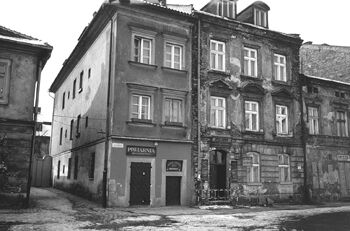 Jewish communities and individuals who hope to reclaim nationalized property are closely watching the progress of two bills currently making their way through the Sejm: the Reprivatization Bill and the Bill on Policy Toward Jewish Communities. However, most political figures say privately that the Reprivatization Bill, whose passage is necessary for individual claims to be filed, will be dealt with only after the fall elections.
After World War II, a large proportion of the property belonging to Jews who died in the Holocaust was appropriated by the State Treasury, in accordance with existing law. Other real estate was nationalized by the communist government.
Until the collapse of communism in 1989, private owners and their heirs seldom made property claims. In 1990, when a part of the State Treasury's property was taken over by communes and local governments, former owners and their heirs began filing claims en masse. Government Press Spokeswoman Aleksandra Jakubowska says that not all claims can be resolved, as the value, usage, legal status and level of maintenance of particular buildings and land plots have changed greatly over the past 50 years. "This is true not only of Jewish property," she says.
The situation is especially complicated in Cracow. Before the war, 200 out of 270 apartment buildings in the former district of Kazimierz were owned by Jews. There were also many Jewish-owned buildings in the downtown area and other wealthy districts. After 1990, when government control of rental rates ended, municipal authorities were flooded with petitions claiming real estate managed by the city. "Those buildings were never taken away from their legal owners; they were only managed by the town since the war," says Elzbieta Nykiel, director of the City Office's Apartment and Building Department. Cracow city authorities still manage some 800 buildings owned by individuals. According to Nykiel, it's difficult to tell what percentage of the real estate was or is owned by Jews. Each year, about 60 buildings are handed over to their legal owners' heirs.
Real estate sold after the war, such as the former headquarters of the Orthodox Jewish Community School Brotherhood Foundation at 7 Izaaka St., poses the biggest problem. After the war, the building was taken over by the State Treasury, became municipal property and was sold. It was later renovated, and today belongs to the Hungarian consulate.
According to 1938 data, nearly 65,000 people declaring Jewish roots lived in Kazimierz, accounting for a quarter of Cracow's population. Today, the Jewish community doesn't exceed 200 people. It has presented city authorities with a list of 50 buildings and land plots that belonged to Jewish organizations and associations before the war and are now used by other parties, including a Catholic soup kitchen. The Jewish community has requested city authorities to withhold any decisions regarding those buildings until Sejm passes the Bill on Policy Toward Jewish Communities.
The bill was submitted to the Sejm in 1995 by Jozef Oleksy's government. Though the project was put on a legislative fast track in April 1996, the need to coordinate it with other legislation has slowed the procedure. It had its first reading, received committee approval on Jan. 21, 1997 and will soon be submitted to the Sejm. "Fast-tracking the bill is a sign of the government's good will," said Krzysztof Zliwinski, Ministry of Internal Affairs commissioner for cooperation with the Jewish Diaspora. "Restitution of Jewish property is a Polish internal matter, and has nothing to do with Polish membership in NATO or other strategic projects," he claims. However, he recognizes that the issue can influence Polish-Israeli relations, as many Israeli citizens may have restitution claims.
The bill would return real estate owned by Jewish communities and other Jewish organizations before May 8, 1945 to present-day communities, but this would apply only to buildings used for religious, charitable, social or cultural activities. During the first three years after the act takes effect, Poland's nine organized regional Jewish communities and the Union of Jewish Communities in the Republic of Poland will be able to make property claims.
If the real estate cannot be returned (when, for instance, it is being used by a public institution), the act would provide the legal owner's heirs with monetary or in-kind compensation. The government would also pay compensation if the building or real estate has been purchased by a new owner "in good faith." Such compensation payments could be used solely within Poland, primarily for renovating, conserving and maintaining Jewish cultural landmarks.
Sejm committees are working on a package of eight government bills on policy toward particular religious groups. In addition to the Jewish community, the committee also deals with Pentecostals and the Mariawici-members of a sect established in Poland in the 19th century. "All the bills have been prepared according to the same principles that govern government relations with the Roman Catholic Church," says Jakubowska.
The real estate owned by Jewish communities before the war includes 228 synagogues (seven currently in use), 70 prayer houses, 25 mikvahs (baths for ritual purification), 28 funeral homes, 27 schools and four hospitals (including Warsaw's Kasprzaka Street Hospital)-a total of around 350 buildings. This number doesn't include 1,020 cemeteries, of which fewer than half are in good condition and a third of which have been destroyed.
During a visit to Poland in February 1996, Kalman Sultanik, chairman of the World Jewish Congress, announced that Jews would claim all property left in Poland. "I understand them," says Stanislaw Krajewski, chairman of the Joint Committee for Christian-Jewish Dialogue. "Their families lived in Poland before the war. They have lost their closest relatives, and possessions accumulated over a lifetime. Now, they want to regain at least a part of their property." In his opinion, Jews outside Poland don't differentiate between the problems of private and communal property. "It's the same issue for them: They want to regain the possessions of many generations of Polish Jews. We Jews living in Poland understand the difference, and we recognize it for the sake of Polish-Jewish dialogue," he explained.
Zliwinski thinks that Jewish claims must be treated in the same way as those of any other religious group or individuals. "This problem must be an integral part of the reprivatization package-Jewish property cannot be treated on a separate basis," he said.
Under the Reprivatization Bill, only Polish citizens whose property was appropriated in violation of postwar law would be allowed to regain their assets; many American Jews oppose the citizenship requirement. Polish politicians stress that the legislation has been drafted to prevent Germans expelled in the 1940s from what today are Poland's western territories from making property claims.
Andrzej Slodownik
Kuba Spiewak
---

Send Email to Contributor

Return to Restitution